Evaporative cooling: Towards zero energy cooling for large buildings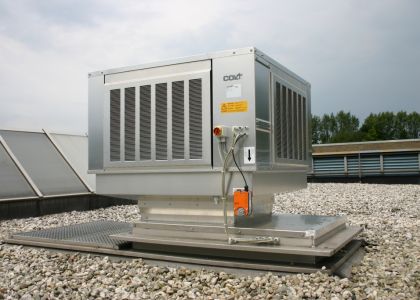 Good for the environment – and for your budget
Cooling large industrial buildings during the hot summer months doesn't need to cost the earth: using the cooling power of water, it's possible to achieve low energy cooling. Here are some of the features and benefits of Colt evaporative cooling systems:
Offer a reduction in energy costs of up to 90% compared to conventional air conditioning
Low cost of operation and maintenance
Free from refrigerants, no F gas compliance
Integrated water quality system, simple technology
Decentralised, modular approach maximises reliability
Total support from design, installation, through to service and maintenance
Colt's evaporative cooling and ventilation systems use the cooling power of water to reduce the temperature inside warehouses and large industrial buildings, creating a favourable environment for working or storage. They only need a small quantity of electricity for the fan that circulates the air. Running and maintenance costs are extremely low and the warmer the outside air, the more efficient evaporative cooling is.
Creating a safe and healthy environment
Colt evaporative cooling systems supply 100% fresh air, maintaining optimal air quality. They are designed to ensure optimal water quality. All systems are tested and comply with VDI 6022, and furthermore CoolStream S is ceritifed to that standard. They are particularly effective in large spaces – industrial or commercial buildings, warehouses – where a pure ventilation system is unable to provide an internal climate suitable for working comfortably or storing goods safely. Colt is able to design an integrated evaporative cooling and ventilation solution, or boost the cooling capabilities of your existing ventilation system with its evaporative cooling technology.